Brighten a Smile, Brighten the World
Brighten a Smile,
Brighten the World
"I saw a little boy whose teeth were rotten to the gums, and that hit me. It was really hard to see – just knowing that child wouldn't be able to get the care that he needed. A lot of this was preventable."
Though 19 year-old Sabrina Nihsen traveled to Honduras almost two years ago, the children she encountered at Global Healing's Roatán Volunteer Pediatric Clinic in 2014 never left her mind. "I remember this picture so clearly," she explains. "I was in the clinic and I saw all these children with cavities and rotten teeth."
But as 
summer 2014 ended, the Nebraska native headed back home from Roatán. Upon her return to high school in Omaha, she became increasingly aware of the gaping healthcare disparities between her surrounding community and that of Roatán, specifically in terms of the normalization and accessibility of oral care. She recalls a feeling of restlessness.
"I had to do something about it," she says.
And so it began – In the fall of 2014, Nihsen founded Traveling Toothbrushes, a nonprofit dedicated to providing dental education and supplies to children in need.
"I planned on solicitin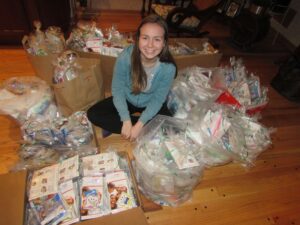 g donations, so that everything we provide for the children would be donated from dentists or companies. Then [our organization] would make the packages with an instruction card on how to brush teeth, a toothbrush, toothpaste, and sometimes other items that people would donate."
But putting plans into action wasn't all that easy.
"I had to do a lot of research to create my own nonprofit. It was a lot of work – a lot of parts that needed to happen to make it all work."
Her work paid off. Once she collected local donations and created boxes of packages, Nihsen reached out to us. Global Healing volunteers helped ship and distribute the kits to children at the Roatán Volunteer Pediatric Clinic. The first project was live, and it was a success.
Each child that visited the Roatán Volunteer Pediatric Clinic in Honduras excitedly received a useful hygiene kit, with helpful oral education tools and supplies like toothbrushes and toothpaste. Traveling Toothbrushes have reached over 2,000 patients at the clinic, changing the lives of children living thousands of miles away.
"This little thing – a toothbrush! Something we take for granted. Hopefully this [organization] can make lives better, whether that's with increasing health or having a brighter smile. It's very rewarding."
Nihsen continues to expand Traveling Toothbrushes, finding new donors and sending new shipments of kits to the Roatán clinic through Global Healing.  She hopes to reach a wider population in the future, perhaps expanding to other clinics and countries.
"The dentists here are so generous, and if I can get just a few toothbrushes – that makes me so happy."
When she's not managing the daily operations of Traveling Toothbrushes, Nihsen is a full-time occupational therapy student at St. Louis University in Missouri.
Interested in donating to Traveling Toothbrushes? Connect with founder Sabrina Nihsen and her team by email (travelingtoothbrushes@gmail.com) or facebook.com/TravelingToothbrushes.
Photos of children at the RVPC by Rudi Tcruz / tcruz.design@gmail.com